About the TSU: Oxford's centre for transport research excellence
Since 1973 the Transport Studies Unit has established an international research reputation in transport research.
Based within the world-leading School of Geography and the Environment at the University of Oxford, the TSU approaches global transport challenges from social science and holistic perspectives. This approach allows TSU researchers to ask questions that might not be asked in other sectors, building a comprehensive picture of the complex challenges facing transport today and in the future. Our position within Geography and the University fosters interdisciplinary collaboration with researchers in other parts of the University and based elsewhere.
A unit of interdisciplinary experts
From geography to sociology, urban studies to economics, and beyond, the TSU draws on the latest relevant developments in various disciplines and research fields.
Our core team of researchers come from various disciplinary backgrounds, bringing with them a range of insight and expertise which enriches our research practice.
Outside Oxford the TSU works in partnership with colleagues in many UK universities, and has very active and well-established links with universities and research institutes across the EU, North America, Asia and increasingly Africa and Latin America.
The TSU researchers also work with partners from government and the corporate sector, for instance to monitor and evaluate technological innovations or to develop new forms of governing urban transport systems.
The TSU has an excellent track record in collaborative projects and is keen to develop new partnerships with research groups and funding agencies. We are always developing projects and ideas for future research.
Please get in touch at enquiries@tsu.ox.ac.uk if you would like to discuss any projects or collaborations with us.
Outreach and Impact
The TSU undertakes a range of other outreach activities targeted at local, national and international policy-makers, firms and corporations, as well as NGOs and other third sector organisations. Many of these activities are built into our research projects and include conferences, workshops, seminars, policy reports and policy briefings.
Some of our recent projects have had an impact on public policy and debate both locally in Oxfordshire and internationally.
Research Agenda 2020-2025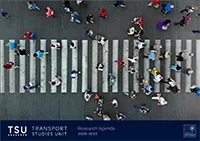 For information on our current and future research, please see our Research Agenda:
Annual Report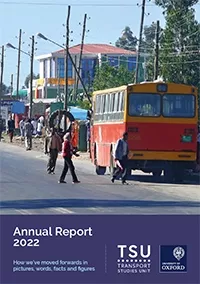 Annual Report 2022: How we've moved forwards in pictures, words, facts and figures
Contents
Alternative formats are available on request from enquiries@tsu.ox.ac.uk
Message from the Director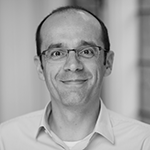 For the TSU the past year has been one of expansion, diversification and preparation. Various researchers joined us to work on a range of topics, including traffic safety, vehicle insurance, and the mobilities of key workers and people with a disability. We have also had a record number of DPhil students starting their exciting research projects in October, and ran our first executive education course tailored to the needs of a large company. Our successful 'infrastructure' course was offered separately to a group of 15 enthusiastic employees of TransJakarta, which operates the world's largest bus rapid transit (BRT) system in Indonesia's capital.
2022 has been an important year from a transport perspective. With China as notable exception, traffic levels at local, national and international scales have seen limited effects of new or ongoing policies to reduce mobility's contribution to COVID-19 infections. That is not to say though the world has returned to a pre-pandemic 'normal'. Across advanced liberal democracies teleworking remains more common and business flights have not quite picked up as much as expected. Public transport ridership also continues to lag, threatening financial sustainability and the legitimacy of much-needed investments in upgrading and expansion of existing systems.
It is now also clear that the pandemic has not become the driver to put transport on a pathway towards genuine environmental sustainability and social justice. This is no doubt another squandered opportunity, in a year where the horrible floods in Pakistan showed how weather events exacerbated by climate change can wash away entire transport systems, amidst almost everything else, on a truly unprecedented scale.
Perhaps the biggest driver of change in transport in Western Europe has been the war in Ukraine, where rises in petrol and energy prices are intensifying transport, energy and indeed general poverty among millions of households. The implications on the mobility side remain to be documented, and will constitute a fertile area for research in the coming years.
Moving forwards, we have begun extensive preparations for the TSU's 50th anniversary celebrations over the course of 2023. We look forward to reporting on these in our next Annual Report.
Tim Schwanen, Professor of Transport Geography