Research that moves us towards a sustainable and fair transport system
Transport has the power to transform lives for better and for worse.
From injustices to impracticalities, TSU research can often uncover the unforeseen consequences of transport innovation, investment and policy. By advancing understandings of the systems, processes and practices that shape the way we move, the TSU hopes to inspire and inform change towards a more sustainable, just and accessible transport system.
Combining qualitative and quantitative research methods - ethnography, interviews, surveys, data analysis, systems modelling - the TSU provides important insights into how people use and negotiate transport systems, as well scientific evidence and recommendations for the public and private sectors.
Research Themes
TSU research is organised within four broad themes:
 

Work in the Energy, Climate & Environment research theme is concerned with reduced energy consumption, behavioural change and socio-technical transitions towards low-carbon, energy efficient transport systems.

 

  Discover more about our Energy, Climate & Environment transport research…

 

Work in the Politics, Power & Governance research theme is concerned with planning, policy and governance with regard to transport.

 

  Discover more about our Politics, Power & Governance transport research…

 

People's movements through time and space and the social consequences of their mobility and immobility is a key feature of the Everyday Life & Justice research theme.

 

  Discover more about our Everyday Life & Justice transport research…

 

The contribution of active travel to public health and sustainable urban development, and the relationships between transport and wellbeing are key concerns within the Health & Wellbeing theme.

 

  Discover more about our Health & Wellbeing transport research…
Research Funding
The TSU is a largely self-funded research institute and most members of staff are contract researchers who are funded through external grants.
In recent years the most important funding source has been UK Research and Innovation (UKRI ) including the Economic and Social Research Council (ESRC), Engineering and Physical Sciences Research Council (EPSRC) and Innovate UK. Other bodies that are funding our research include programmes and institutes within the University of Oxford; the European commission; research councils in other European countries; organisations such as the ADB, ASEAN, WHO, OECD and UN Habitat; and charities such as the Rees Jeffreys Road Fund. A small part of our funding is generated through activities other than research, including university teaching, executive education and consultancy.
We are always developing projects and ideas for future research. The TSU has an excellent track record in collaborative projects and is keen to develop new partnerships with research groups and funding agencies.
Research Agenda 2020-2025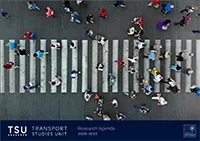 For information on our current and future research, please see our Research Agenda:
Annual Report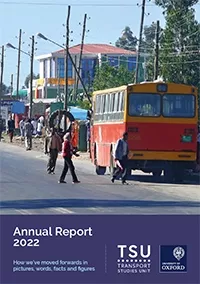 Annual Report 2022: How we've moved forwards in pictures, words, facts and figures